News from the mountains and our ski resorts
Get a headstart on your holiday to make the most of your stay in the high mountains, with a few suggestions and advice from our experienced team of locals so you can look forward to many happy surprises for you and your nearest and dearest.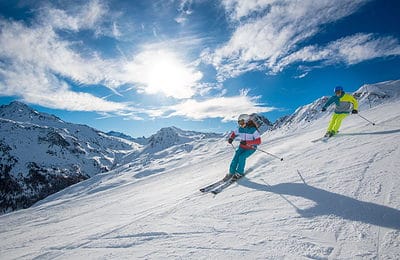 Les amateurs de ski pourront apprécier la neige généreuse de certaines régions alpines de haute altitude que soit à Tignes, Val d'Isère ou La Plagne, grâce aux spectaculaires glaciers de La Grande Motte, de Phisaiyas ou encore de la Chiaupe avec vue sur le Mont Blanc. Des stations qui sont devenues plus éclectiques au fil des années, se fondant dans les parcs naturels environnants pour devenir des lieux d'exploration sans pareil qui accueillent les vacanciers en quête d'aventure, d'expériences insolites ou de tranquillité. Ainsi, la haute montagne promet des aventures uniques à vivre dans son théâtre naturel magique où vous pourrez profiter de vos vacances et vivre des moments inoubliables.
Retrouvez tous nos conseils pour choisir votre prochain séjour à la montagne, que ce soit pour des vacances en famille, entre amis, en couple…trouvez votre bonheur dans notre sélection en vous aidant également de nos articles pour mieux vous projeter dans la station et l'établissement de vos rêves.
Articles on skiing and mountains